Last updated: July 10, 2020 Originally Posted: June 28, 2018
Known as the "Napa of the North", the Okanagan Valley is located in the Canadian province of British Columbia and spans an area of 180 kms. Home to stunning scenery, outdoor recreation and known for its wineries and fruit orchards, the Okanagan Valley offers visitors a lot to see and do for short or long stays. In this post, we will tell you more about the Okanagan Valley and surrounding areas, including the Similkameen Valley to help you plan your visit.
COVID-19 Update:
At this time, the border between Canada and the Unites States is closed and so visitors from the United States are not able to visit. The Government of British Columbia has moved into Phase 3 of re-opening which means that the guideline to "Avoid All Non-Essential Travel" has been removed and visitors are now welcome to travel for leisure while adhering to public health guidelines; more information can be found here on the destination BC website https://www.destinationbc.ca/covid-19/update/.
Some wineries have re-opened earlier than others due to their ability to meet the new guidelines and others are working very hard to do so but some still remain closed and may not open this season; make sure to check online before visiting. One common trend we have noticed for the places that have re-opened (or in the process of doing so) is that you have to pre-book your tasting online and provide contact information which is kept for 30 days. It will not be possible to just drive up and taste as you have done in the past for the time of being and groups of 6 or less can be accommodated as per the latest guidelines.
It is quite a challenge to re-open safely for everyone and to consider the economic impacts of having a shortened season to welcome tourists and not be able to do so at past capacity. Many wineries have been generous in offering free shipping and even discounts on products so make sure to check out the websites of places mentioned in this post to order wine until you can visit.
Getting Here:
Depending where you will be going, the Okanagan Valley is located 400-450 kilometers away from Vancouver, British Columbia.
If you are driving from Vancouver, it takes about 5 hours to drive to many of the popular areas in the region depending on traffic and road conditions. The drive from Vancouver is actually quite beautiful and you'll see dramatic mountain landscapes, rivers, lakes, and drive through small towns that have fruit stands and other food products.
If you are flying from Vancouver, it takes about 1 hour to arrive to the two airports in the region: YLW – Kelowna International Airport and YYF – Penticton Airport. There are also flights into YLW – Kelowna from SEA – Seattle-Tacoma International Airport on Horizon Air/Alaska Airlines. Once there, you will most likely want to rent a car to get around.
When to Visit:
The two main considerations for when to visit are: the weather and high season. If you can, you will want to visit during high season when the weather is the best and most things are open but not when it is at its busiest. From our experience, the weekend before the Canada Day Long weekend in early July is a good choice; the weather is usually sunny and warm +25-33 Celsius, the traffic not as heavy as the long weekend, and hotels are reasonably priced.
If you come too early in the season, the area is prone to flooding and the weather can be cold and wet and it's similar in the fall/winter. In addition, some places close or have limited operating hours between November to May. If weather is not the most important thing to you then visiting between mid-to-the-end of May and in October will offer up the best deals.
Getting Around:
The easiest way to get around is by driving a vehicle and since Jason doesn't drink wine, he's always the designated driver. If you don't have a designated driver, there are numerous tour companies and taxis you can hire to take you around.
For those who want to be active, you can also get around by bike, either on your own or on a tour. Tours range from specific trails like the 80 km Kettle Valley Rail Trail from Kelowna to Penticton or wine country tours that last about 4-5 hours.
The area is also very large and so even if you fly into YLW – Kelowna and choose to make that your home base, plan for longer drives, i.e Osoyoos is about 150 km's from Kelowna and the estimated driving time is close to 2 hours according to Google Maps. When we stay in Osoyoos, we usually take a drive to the Naramata Bench wine region in Penticton, which is about a 1 hour drive away over 65+ km's.
Winery Visits:
Here is some general information about visiting vineyards/wineries on your own:
Tasting Fees: Most places charge $5 for a basic tasting and $10 for a premium tasting. In most cases, the tasting fee is waived with a purchase of 1 bottle or more.
Prices of Wine: The price per bottle varies from winery-to-winery and is not region specific. Reds are usually more expensive than whites/roses and bottles start at $20CAD. The average price for a bottle of red wine is $25-$50 and the average price for a bottle of white/rose is $20-$30.
Operating Hours: During the summer, most places are open from around 10:00-18:00 but check before visiting.
Food: Some wineries have restaurants onsite but not all of them do. Some of the more casual wineries will offer snacks like cheese, bread, and cured meats for purchase and enjoyed onsite in a picnic area.
Choosing your home base – Region Overview:
To help you choose your home base during your visit, we will provide information about the different areas/regions and considerations about accommodations, wineries, and food options. Since we usually stay in the Oliver-Osoyoos area, we will have more information about this region. Click on the link below to be taken to the part of this post with information about that region.
Oliver-Osoyoos:
Oliver is known as "the wine capital of Canada" and home to a number of wineries and restaurants. Since Osoyoos is just a short 20 minute drive from Oliver, wine lovers will have over 40 wineries to choose from for tastings, making this a great spot as a home base. With Lake Osoyoos in the middle of both regions and some easy to more challenging hiking trails, there is also a lot of outdoor recreation available here.
Where to Stay:
Here are some ideas about where to stay if you are looking for hotel-style accommodations.
Spirit Ridge, a Hyatt Unbound Resort in Osoyoos: This medium sized resort is good for both families and adults-only trips. The large rooms are condo style and come equipped with kitchens and ensuite laundry facilities. With a spa, steam room, 2 pools (1 for adults only), 2 fitness centers, Nk'Mip winery/cellars onsite, a restaurant, Desert Cultural center museum onsite and shuttle to the beach for lake access, this full-service resort is very convenient, relaxing, and offers lots of activities to stay busy. There are also a few fruit stands and wineries down the road, so in theory, you could get by without a car here if you want to walk. Guests can use cash or World of Hyatt points to pay for their stay.
Watermark Beach Resort in Osoyoos: This small sized resort is good for both families and adults-only trips. The large rooms are condo style and come equipped with kitchens and ensuite laundry facilities. With its lovely lake-side setting, it's very easy to participate in water activities such as swimming, stand-up paddle boarding, and wakeboarding. Onsite, there is a gym, fitness studio with fitness classes (spin, TRX, yoga, pilates, etc.), a pool and waterslide for children, hot tubs, and a couple of restaurants. Since Watermark is right in town, it's easy to walk around Osoyoos to pick-up groceries or visit other restaurants.
The Villa at Hester Creek in Oliver: With 6 Mediterranean style suites perched up on a hill that provides stunning views all day, The Villa at Hester Creek provides an adult-oriented experience for those who are looking for a quiet, relaxing and luxurious getaway. All rooms come with a fireplace, soaker tub, shower, bar fried, sink, microwave, patio with table seating and one lounger chair and complimentary breakfast. Onsite, there is Terrafina restaurant that serves lunch, dinner, and happy hour daily and the Hester Creek vineyard/winery where you can purchase wine. Just down the road, there are two other wineries you can visit as well and you have easy access to the Golden Mile Bench and Black Sage bench wineries. If you want to stay at Hester Creek, make sure to book way in advance as it sells out fast. As of June 2019, we have only seen two nights available for the weekend in late July.
Wine and Dine:
Here are some of our favorite places to visit for wine and food in this area.
Black Hills Estate Winery and Vineyard Kitchen in Oliver is a good place to sample white, rose, and red wines with bistro foods like dips, salads, and flat bread pizzas. Tastings start at $10 but are not waived even if you purchase. Any serious wine collectors will want to grab a bottle of the cult wine Nota Bene. As for everyday drinking wines, the Alibi white blend is a nice bottle for the summer and I enjoy their Syrah paired with King Cole cheese from the Upper Bench Creamery.
Lariana Cellars in Osoyoos is a boutique-style winery that focuses on making a few wines very well. Their Viognier is consistently the best one in the region as is their Carménère. The tasting room is small and has indoor and outdoor seating and wine purchased here should be enjoyed back at home or your accommodation.
Masala Bistro at Kismet Winery in Oliver is a good place to enjoy lunch or an early dinner. From small appetizers like pakoras and pani puri chaat to main entrees of curries and tandoori selections, those looking for an upscale but casual Indian restaurant with wine pairings will enjoy Kismet Winery and masala Bistro.
Nk'Mip Cellars and The Patio Restaurant in Osoyoos is located onsite at Spirit Ridge resort and offers a nice selection of white and red wines, and an outdoor patio restaurant for lunch. Pronounced "inkameep", Nk'Mip's wine shop features an introductory tasting as well as a premium tasting. I usually get a bottle of their Chardonnay, Merlot, and Dreamcatcher blend to take home. The Patio offers wine by the glass and the bottle to be enjoyed with their farm-to-table bistro style menu with salads, sandwiches, and signature items such as the Salmon and Fry Bread.
Platinum Bench Estate Winery in Oliver is the place to get the most delicious bread that you might ever enjoy in your life. We recommend doing their wine and bread tasting to sample their wines, taste the breads, and find the perfect pairing. My favorite bread is the double cream brie with pear preserves but they are all delicious. As for the wine, their Gamay Noir is my favorite and I always bring at least one bottle back. You can purchase wine, bread, cheese, and charcuterie onsite to enjoy on their patio or to take with you. Be sure to say hello to Wally, the winery's puppy when you visit. Note: Platinum Bench has re-opened for the season for wine tastings and off-sales (bread, wine, cheese, etc. to go). Their setup is very convenient and organized; no reservations are needed to taste but arrive early as it gets very busy!
Stoneboat Vineyards in Oliver is a good place to get some sparkling wine to take back with you. We really enjoy their Grand Piano Brut and Maxine loves their Pinot Gris. Note: Stoneboat has re-opened for the summer season and while walk-ins are welcome for tastings depending on space, it is recommended to reserve in advance to make it easier for everyone.
Penticton:
Penticton is a small city situated between Okanagan Lake and Skaha Lake and is also home to a number of wineries, restaurants and hotels. More accessible due to the airport and larger than Oliver-Osoyoos, Penticton offers visitors wining and dining as well as outdoor recreation on the lake, and on the trails. One unique outdoor activity is to take a leisurely float down the 7km long river channel between Okanagan Lake and Skaha Lake in a tube. Our favorite wine area here is called the Naramata Bench, and is home to 20+ wineries located on a 14 km stretch of country road with view of Okanagan Lake and the vineyards that slope down.
Where to Stay:
Accommodations in the area range from Air BnB to branded chain hotels and small local boutique hotels. Compared the Oliver-Osoyoos, there is definitely a higher inventory of rooms here to give visitors more options at various price points. Those looking for a historic bed and breakfast experience may enjoy staying at the Naramata Heritage Inn and Spa, an adult's only hotel that offers free breakfast and bike rentals, access to lake for water activities, and has a restaurant and spa on site. We have also contemplated staying at the Inn at Therapy Vineyards due to how nice the suites are, the views offered and the close proximity to the Naramata Bench.
Wine and Dine:
Here are some of our favorite places to visit for wine (and other beverages) and food in this area.
Bella Wines is exclusively dedicated to making sparkling wines. As per their website "Bella produces natural sparkling wines of exceptional quality using the traditional and ancestrale methods". The tasting fee here is $10 and waived with a purchase. We really enjoyed everything we sampled and appreciate how skilled they are at making wine here. We were lucky to visit when they were sampling their 2013 Reserve Cuvée which tasted like Veuve Clicquot in our opinion.
Cannery Brewing Company is located in downtown Penticton and a good place to grab a beer on the patio because drinking wine makes you thirsty for a beer, especially on a warm sunny day! They also really good nachos (ok, that's an understatement…they have THE BEST NACHOS!) and we appreciate how they serve a small bowl of popcorn every visit. This is our favorite brewery in the area and easy to visit after you've been to the Penticton Farmer's Market on Saturday morning.
Creek & Gully Cider is a newly opened farmhouse cidery owned and operated by a family who has been farming the land for five generations. Creek & Gully make drier ciders with little sweetness so you are in for a treat if you don't like sweet cider.
Deep Roots Winery on the Naramata is newer but worth a visit if you're looking for unoaked Chardonnay and white wine to pair with Asian food, get their Parentage White. Barry swears that their Parentage is the only wine that can handle cilantro in Asian dishes and we're looking forward to trying it out!
Elma: Elma is a newer restaurant in Penticton by the lake and while it seems out of place near the old-school motels, it has found its place by offering unique and delicious food in a casual but upscale space. Inspired by Turkish cuisine and design, the majority of the menu is family-style. We wouldn't say it is authentic Turkish food but captures the flavours and spices for sure. If you've been to Turkey, you will feel kinship to some of the art in the restaurant and the tiles (they came from Turkey!). We highly recommend the meatballs, eggplant, flatbread, and zucchini fritters. We hope to try the Tomahawk steak that needs to be ordered 24 hours in advance next time! It is nice to be able to enjoy food like this with local beer, wines, and cocktails away from the wineries for a more relaxed experience. Note: Walk-ins are accepted but it does get very busy and so reservations are required. A happy is offered on some days between 15:00-17:00 but other than the drinks, the food specials are confusing and not the best value. Some items are crossed out as unavailable on the menu but are available sometimes so ask your server.
Highway 97 Brewery is one of a few craft breweries in the Okanagan Valley and a good place to enjoy a nice cold beer on their patio. In addition to draft beer, they also sell canned beer and provide growler fills.
Joie Farm and Picnique on the Naramata Bench is a great place to enjoy wine, food and a game of bocce in a casual outdoor setting. After you completed a tasting you can purchase a bottle to enjoy on the lawn outside and order food from Picnique if you want. We were very happy to see that Picnique is back to serving pizza from Penticton's Tratto Pizzeria and it's better than ever! We really enjoyed the "Bee Sting" pizza which is tomato based with cheese, chili flakes, and topped with prosciutto and honey. New in 2019 is a "pop-up fromagerie" with meats from Vancouver's Oyama Sausage Company, cheese from Benton Brothers, and bread from local bakery True Grain Bread. They are also one of the only wineries to serve craft beer in addition to wine. This year's collaboration beer is "Like Minds Brett Saison", "an attempt to marry the delicate fruit flavours created by yeast in beer and the fragrant qualities of white wine grapes" brewed by Port Moody's Yellow Dog Brewing. Joie's lawn is a really nice break from the more formal wine and restaurant experiences in the valley. Note: Joie is offering different experiences for 2020 than the ones mentioned above due to COVID-19; please check their website. You can also dine-in or get take-out pizza from Tratto in Penticton to get your Bee Sting fix! 🙂
La Frenz on the Naramata Bench is a great place to enjoy an outdoor seated wine tasting with a view. With Portfolio and Reserve tasting flights, you will get to try a lot of their wines in a really nice setting. I usually buy a few bottles of their Viognier and Pinot Noir.
Lock & Worth is a small low-key winery focused on high-quality low production wines. Don't be surprised if you haven't heard of them because they spend all their money making the wine, not marketing them. Lock & Worth shares a space with Poplar Grove cheese and the tasting features their wines paired with Poplar Grove cheeses. Most of the wines are unfined and unfiltered which makes them interesting, especially for those of us who are becoming a bit bored of more conventional wines. I highly recommend their Merlot but don't expect the usual Merlot. At 12.7% alcohol and a light color, this Merlot is best served chilled, making it the perfect red wine for summer. Note: Lock & Worth is currently open and does not require reservations for tasting; it is first-come-first-serve tastings at a picnic table outside. When we visited, the $10 wine and cheese flight tasting fee was not waived with purchase but that may change later in the season. Nonetheless, we felt the fee was worth it.
Nichol Vineyard: Located further down the road on the Naramata Bench, Nichol is more focused on their product than marketing and gimmicks compared to other wineries and it shows. Their Pinot Gris (orange wine), reds, and sparkling are all delicious and worth adding to your collection. Note: Nichol is open for tastings this summer; you need to reserve online here. We enjoyed the tasting due to the wine, the views and the Johnny Cash record playing in the background (Matt will ask you what you want to listen during the tasting; he has a great selection of vinyl and will insist that you choose, so don't be shy!).
Upper Bench Winery and Creamery on the Naramata Bench is a great place to enjoy lunch on their stunning patio that has shade and cooling mist. The menu features salads, cheese and meat boards, and a selection of pizzas made in their wood burning oven. It was too busy in the tasting room to try the wine and cheese but we hope to one day. After lunch, we picked up some cheese to take home and a bottle of their Carte Blanche white blend wine of Chardonnay, Pinot Blanc, and Riesling.
Summerland:
Summerland's small-town setting on Okanagan Lake makes it a good choice as a home-base or even as a day trip since it is only 45 minutes away from Kelowna and 15 minutes away from Penticton. In addition to wine, there are also cideries, distilleries and a brewery part of Summerland's Bottleneck Drive, which has 24 members.
Where to Stay:
Summerland Waterfront Resort Hotel: The Summerland Waterfront Resort Hotel is a family and adult friendly resort/hotel directly on the lake. We've stayed here a number of times and have always enjoyed our stays because it is quite comfortable, conveniently located and pretty peaceful. The units are all timeshare-style regardless of if you have a studio, 1 bedroom or 2 bedroom; all are equipped with well-stocked kitchens. Onsite, there is a pool, 2 hot-tubs, barbecues, chairs by the water, picnic area and a watersport rental company that rents boats, stand-up paddleboards etc. We feel that the Summerland Resort Hotel offers a cottage like vacation but with the amenities of a resort; all you need to do is pack your stuff and the rest is there. Like other hotels of this type, the pool is always busy with children and so as an adult, you may need to go during off-peak times to enjoy it without all the noise and splashing. The hot-tub by the pool can accommodate 4 people and is also always busy with children which is why we use the one further away that can accommodate 2 people (physical distancing guidelines). There is a small but functional gym for those who want to workout but make sure to bring sunglasses if you are exercising in the morning because the sun is quite bright.
Wine and Dine:
Here are some of our favorite places to visit for wine (and other beverages) and food in this area.
Dominion Cider: Last summer, we had the chance to try Dominion Cider at the Penticton Farmers Market and have been hooked ever since; it's probably in our top favorites for craft cider, especially since they can it for easy transportation. Dominion also offers tastings on their property in Summerland with nice views of the landscape.
Fitzpatrick Family Vineyard: Sparkling wine lovers will love visiting Fitzpatrick due to the quality of their product! The views here also quite nice by the way and when the bistro is open, it's a nice place to enjoy a drink and some food. Note: Fitzpatrick is open for tastings and events like yoga and lunch (select dates) but you need to reserve in advance.
Kelowna:
Kelowna is the largest city in the region and offers a lot of amenities that the other smaller locations don't such as more hotels, restaurants, and malls. With over 40 wineries within a 20 minute drive, Kelowna is a good choice for those who are short on time and don't mind sacrificing the small town atmosphere of the other destinations mentioned in this post.
Similkameen Valley:
Known as "One of the top 5 wine regions you have never heard of" by Air Canada's Enroute magazine, the Similkameen Valley is not exactly in the Okanagan Valley but worth mentioning. Just a 30-45 minute drive from Osoyoos or Penticton, the Similkameen Valley has 11 wineries and 1 ciderie to visit. In addition, there are a few good long and short hikes in the region, numerous fruits stands and orchards to visit, and outdoor recreation on the river such as river tubing.
Where to Stay:
Farmersdotter: On our last visit, we finally had the chance to stay at Farmersdotter an organic farm, bakery, and artisan salt provider located in Cawston. You can book Farmer's Dotter on AirBnB; we stayed in the Owl Suite. The tiny houses/cabins at Farmersdotter offer rustic luxury in a beautiful setting to explore the Similkameen Valley. It is so quiet and relaxing to stay here and we are so happy to support the great work being done by Yvonne and Morris on their organic farm and bakery which is run on solar power.
The Vineyard Suites at Orofino: Orofino has 2 suites on their vineyard property; a 1 bedroom and a 2 bedroom. Both suites offer great views of the vineyard and Cawston's dramatic landscape from their large patios and have convenient perks like a full kitchen, access to a BBQ, and bikes. We have never stayed here but as Orofino wine club members, we get 10% off and hope to stay here one day.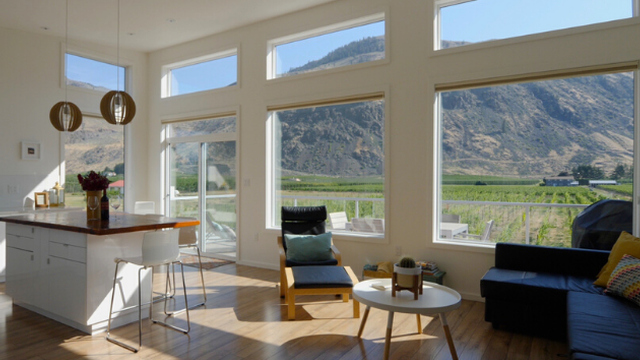 Wine and Dine:
Here are some of our favorite places to visit for wine and food in this area.
Orofino: The owners of Orofino, John and Virginia, have been making wine in the region for over 15 years. Visitors to Orofino will be impressed by the natural beauty of the vineyard and how welcoming the tasting room is…in addition to how good their wines are. If you like lighter reds, their Gamay is a good choice; you get the flavour and depth of a red wine but much lighter. Their Cabernet Franc Rose rivals some of the better roses we have had in France. Maxine has not had a wine from Orofino she didn't like which is probably why she joined the wine club. If you only have time for one stop in the Similkameen Valley, Orofino should be the one! Note: Orofino is open for tastings for 1 group of 6 or less at a time; please reserve online: https://www.orofinovineyards.com/Visit-Us/Book-a-Tasting
Untangled Craft Cider: Untangled Craft Cider is part of Klippers Organics, a certified organic farm in Cawston. Located in the same space as Row Fourteen, a new farm-to-table restaurant on the Klippers Organics Farm property, Untangled Craft Cider offers a variety of ciders for those who like basic ciders and those who have a more adventurous palate. There weren't any ciders we did not enjoy and are happy you can purchase them at the Vancouver Farmer's Market because we will go through the bottles we purchased pretty fast! If you are in the area or considering going, it is worth it, especially if you get to meet Vera during a tasting; she is so fun and passionate about the products! We highly recommend a visit and making a reservation for lunch or dinner at Row Fourteen!
Twisted Hills Craft Cider: We have visited Twisted Hills Craft Cider and highly recommend their Pippin's Fate cider.
Liber Winery: A visit to Liber Winery where you will find certified organic wines and highly recommend their "Everyday Chardonnay".
Corcelettes Estate Winery: We have not had the chance to visit Corcellettes yet but really want to due to how much we enjoyed their Santé Frizzante sparkling wine and how well reviewed their other wines are. They also have a nice patio with a view of the valley where you can enjoy your tasting.
Have you ever visited the Okanagan Valley or Similkameen Valley? If so, where did you visit/stay? Is there anything we are missing in this guide?
Related Posts: