Last updated: November 24, 2019
As easy as it can be to search for flights and book them either using points or paying for them, there are complexities to air travel that are not always easy to find and understand. We've learned from mistakes we've made and how to avoid them. In this post, we share information about 7 key factors to avoid making mistakes when booking flights for frequent and not so frequent flyers.
1 – Credit Cards: Diversify your portfolio
Have more than one credit card to book flights with: When making a flight booking, have a back-up credit to make the booking. For example, TAP Air Portugal says they accept American Express on their Canadian site but they only accept USA-issued American Express cards. We had to use a TD Aeroplan VISA to book the tickets. Thankfully, the TD Aeroplan VISA has decent insurance but it is not as good as our American Express Platinum card unfortunately.
Have the same credit card you used to pay for the flights when you travel: In some cases, airlines require you to show the credit you used to pay for the flights when checking in. For example China Airlines has the following policy: "If you receive an email with a subject of "China Airlines Notice for Credit Card Payment" after completing your credit card transaction, you will be denied boarding if the card is not presented at check-in, nor the incompletion of the credit card payment at least 72 hrs before first CI/AE flight departure in business hours of branch office. Or you will be asked to buy another ticket for the itinerary." We do not have a full list if all airlines that have similar policies but have heard that the following airlines do: Royal Jordanian, Korean Air, Sri Lankan Airlines, and Turkish Airlines.
2 – Just because it is available, doesn't mean you should book it…
We cover some topics related to this in other sections but here are a few important things to consider.
Tight connections: Often, airlines will let you book flights with ridiculously tight connection; 45 minutes is not enough time to connect, especially through some airports. Any minor delay, and you are hooped and if it is the last flight of the day, you will need to overnight. For flights through SEA – SEATAC, we always book with 1.5 hours or more to connect; due to flow control, bus gates and even having to travel between the main terminal and north satellite terminal, it takes more time to get to your next departure gate. We even sat on the tarmac for 30 minutes which cased us to miss our flight back to Vancouver by 6 minutes…even if we got from N to C gates in less than 6 minutes.
Difficult connections: While researching flights to get from Colombia to Costa Rica, the system defaults to a flight to Panama City with a 1.5 hour connection but the issue is that if we miss our connection, we will be stuck in Panama City for 3 days because there isn't a daily flight. We were able to find a flight that departs very early and leads to a longer layover time in Panama but since the aircraft overnights in Cartagena, it is less risky.
Standard or Basic Economy: Standard or Basic economy fares are considerably cheaper but come with inconveniences and risks that might not be worth the dollar savings, especially for inexperienced travelers. The CBC told the story of a couple who booked basic economy with WestJet and because they missed their connecting flight, the remainder of their itinerary was cancelled. Read the fine print.
3 – Booking Confirmations: Read the fine print
Check your booking confirmation for accuracy – Class of Service: We booked 2 tickets on TAP Air Portugal in business class from OPO – Porto International Airport to EWR – Newark Liberty International Airport onwards to YVR – Vancouver International Airport. When we received the booking confirmation, the EWR to YVR segment was in economy despite it showing as business class on the TAP Air Portugal website. When we called the airline, they said the reason the last segment was in economy is because there is no business class cabin on the Air Canada flight, which we know is untrue as the flight is operated on a 787. We asked for a refund as this was not what we booked.
Check your booking confirmation for accuracy – Itinerary: We booked a one-way fare from YVR – Vancouver to BOG – Bogota (El Dorado) connecting through LAX – Los Angeles on Avianca. For one reason or another, at the time of ticketing, it omitted YVR – Vancouver as the starting point and so we had to call to get them to fix the ticket. The great thing about this one is that Aeroplan HAD TO BUY US tickets on the flight, so we will be earning AQM (Altitude Qualifying Miles) and AQD (Altitude Qualifying Dollars) on rewards tickets.
Check your booking confirmation for accuracy – Airport Code: When booking flights to Tokyo, it is very common to arrive into HND – Tokyo Haneda which is closer to the city and then to depart from NRT – Tokyo Narita depending on which airline you are flying with and your final destination. You most definitely do not want to realize this the day you are going to the airport as it can lead to additional costs if you miss your flight and have to re-book. Other commonly mistaken airports are Florence Italy, Portland Oregon vs Maine, Sydney Nova Scotia vs Australia, Granada Spain vs Grenada Island, San Jose California vs Costa Rica, ORY – Paris Orly vs CDG – Paris Charles de Gaulle.
4 – Third-party Websites: Avoid but if you do use them, beware…
We don't usually book using third-party sites as we prefer to book directly with the airline to avoid problems, but sometimes you need to use them. If you are going to book a flight with third-party sites like FlightHub, CheapoAir, or similar (while Expedia has a better reputation and reviews, it can still be misleading), here are some things to be mindful of.
American Express Travel: American Express Travel is both a travel agency and a third-party booking tool. For the TAP Air Portugal tickets from OPO to YVR, we eventually booked them using American Express travel for cheaper with all segments in business class which was a win-win as we wanted to pay with our American Express Platinum card.
Earning points: If earning points is a priority, you need to find out what class of ticket the third-party is selling or else you may not earn points. Even if you read the fine print, it can be difficult to know exactly what type of ticket you're being issued as they facilitate the booking with the airline on your behalf and have access to ticket types not available for the public to purchase.
Impractical itineraries "you want me to connect this many times and switch airports…?": Also, because third-party websites search all airlines, you may end up with very impractical itineraries, i.e arriving into LGA – LaGuardia in New York City and having to transfer to JFK – John F. Kennedy for another flight on another airline in 3 hours (true story shared with me). Just because you booked the flight with the third-party site doesn't mean it ends up on one ticket, especially when the flights are on non-partner airlines. Unless this is the cheapest option, you have a lot of flexibility, and/or an airline won't ticket you what you are looking for, it is best to avoid third-party websites.
Dealing with Issues/Special Needs: Often, if something goes wrong with your booking or you need to make changes, you need to call the third-party company to deal with the ticketing issues as airlines can't always help you. Also, please note that if you are traveling with a pet, you need to book directly with the airline.
5 – Rewards availability: Flexibility, patience and research are key
We are so sick of hearing people whine about how they can never use their points! There are so many factors that determine availability for rewards tickets; some airlines are notorious for only releasing a specified number of seats, some release a high number doing slower times, some only release seats 1-2 weeks prior to departure, and some are always available but they cost a lot of points.
We often plan trips around what we can use our points for and not necessarily where we want to go to give ourselves more options. In some cases, we redeem points for 1 ticket and purchase the other one if needed. The key is to be flexible and to analyze the availability and pretty much stalk the website to see what comes up and when as far in advance as you can.
Last minute availability: We booked tickets on EVA with Aeroplan from DPS – Denpasar Bali to YVR – Vancouver through TPE – Taipei and SEA- Sea-Tac because there was no availability from TPE to YVR at the time of booking. We monitored the Aeroplan site and noticed that EVA was releasing availability for seats to YVR about 4 days prior to departure. Thankfully, we were able to pay $150 and switch our tickets to YVR instead of connecting through SEA, which saved us about 6 hours of travel time and the overall inconvenience of an extra connection.
Limited availability: Through pretty much stalking the Alaska Airlines website and plugging in random dates and routings, we were able to score 2 First Class seats on JAL Japan Airlines and 2 on British Airways, which is extremely rare (we've never heard of any of the superstar travel hackers pulling this off!). For us, the reward of using points for these flights is worth the hours it takes to find them. We did have to cancel the British Airways tickets though but we do have the JAL ones booked for this fall. It has taken us years to find 2 tickets in JAL First Class and we are super excited to not only experience this flight and service but also visit Tokyo!
Book far in advance: Sometimes, you just need to book in advance when the availability is there and be prepared to change your plans if needed. When there was a possibility we would travel to Brazil, we booked a one-way Aeroplan ticket back to YVR – Vancouver via YYZ – Toronto because there was availability, the fees were super low, and the ticket was on the 787 in business class both flights, a flight product we've been wanting to try. Unfortunately, we didn't go on that trip so we each had to pay a rebooking fee to book something else which cost $100CAD per ticket. While these fees can add up, we consider it "a cost of doing business".
Australia and Christmas: EVERYONE wants to use their points to go to Australia and so it can be hard to find availability when you want to travel. We do see availability pop-up every now and then but you need to be ready to book it when it's available or else you may miss out; we told a friend about availability and within hours it was gone. You can also consider getting creative; maybe plan to stop in Fiji or somewhere in Asia on your way to Australia to increase your options. Christmas is also a good time to use points for flights as flights are very expensive but unless you have perks as a top tier airline member, it might be difficult to find availability on your preferred dates at a reasonable cost. We usually just purchase tickets and apply an Alaska Airlines companion fare to bring down the cost but it will cost us about $1,000 each to fly to Hawaii for the holidays even with a companion fare though which is not a good deal but we know we need to pay if we don't want to be stuck at home. It is also difficult to say: "I want to go to Rome in July and want to use points for these flights" as it is also a peak time and so there is often less availability.
6 – Know the Product: Research before booking
Just because you saw a commercial, video or photos of what it looks like on the flight, doesn't necessarily mean that is what you will get on your flight as airlines operate different aircraft and levels of service on different routes.
Research the aircraft that service the routes: When you fly business class between YVR – Vancouver and YYZ – Toronto, you can either end up in a nice lie flat-reverse herringbone seat or a recliner seat if the flight is on the A321. In addition, your flight in economy on the same route will be more comfortable on the A321 than the 770-300ER high-density. And sometimes you win the lottery when you end up in Qatar Airways Q Suites and the new Emirates First Class on the 777 due to last-minute aircraft changes. Before booking, have a look at which aircraft is operated and check-out SeatGuru or flight reviews for more information.
Assess Return on Investment (ROI): When faced between the choice of Lufthansa business class on the 747-400 and TAP Air Portugal's A330-200 business class, we decided to book the TAP Air Portugal because not only were the tickets slightly cheaper, the change fees were also less, we will earn 200% Aeroplan miles, and the overall hard-product is better. Based on our itinerary, the flight from OPO – Porto to EWR – Newark is operated on an A330-200 (with plans to upgrade to the A330-NEO) with a 1-2-2/1-2-1 configuration. We were also able to select the 2 "throne" seats for maximum privacy on the flight; we will be seated in 3J and 5J. Only downside to the TAP flights? We have to connect through EWR – Newark Airport which is not as nice as FRA – Frankfurt Airport.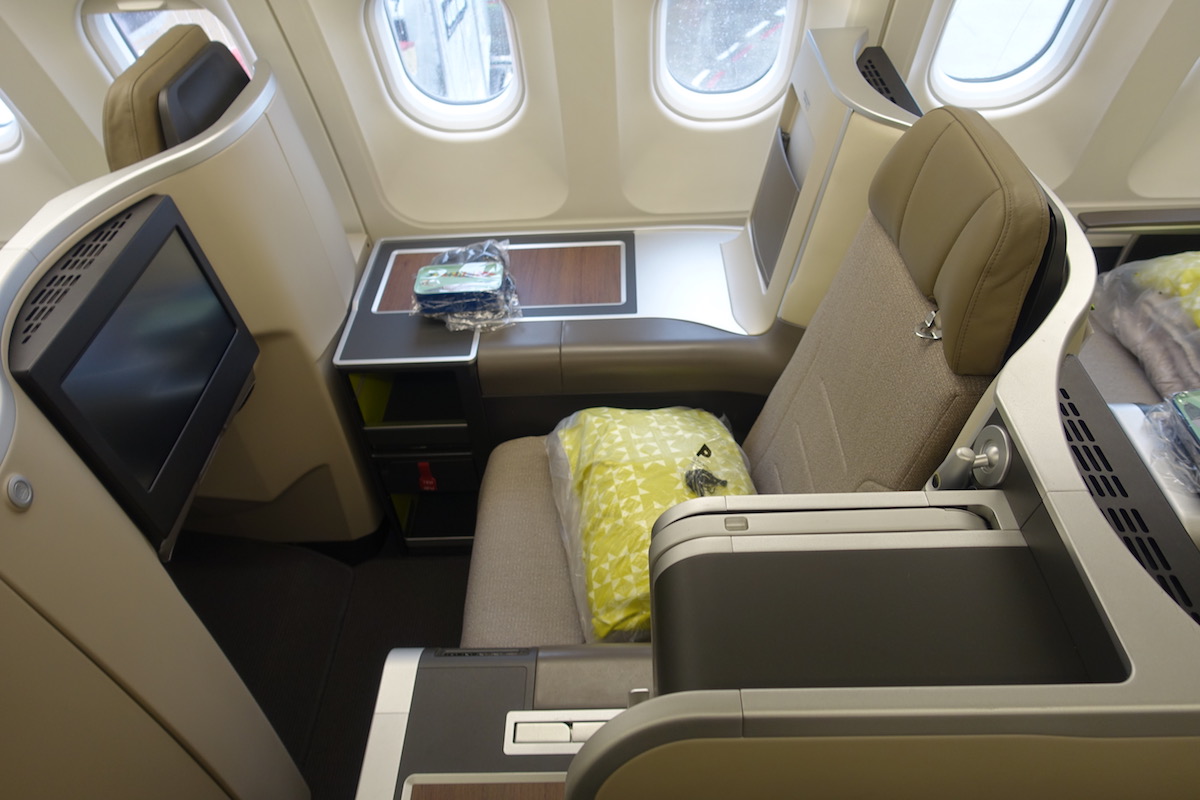 7 – Research and Map Your Trip Logistics: Don't get lost or stranded in transit
We prefer to know things instead of asking them when you need to know them because it saves time when you may not have a lot, which also minimizes stress. Much like you shouldn't go hiking without knowing anything about the trail, you shouldn't travel without knowing anything about the stops along the way and the airplane taking you there.
Know the airport and its terminals: Researching terminal information is key in planning for connections. As we plan our trip for the fall, one thing we are aware about and is causing us issues is connecting in MNL – Ninoy Aquino International Airport in Manila is the time it will take to connect between terminals. Initially, we were arriving on Cathay Pacific in terminal 3 and connecting on Cebu Pacific for a domestic flight, also located in terminal 3. Now, we had to switch our flights and will be arriving on JAL Japan Airlines in terminal 1 and based on our arrival time and the time it takes to transit to terminal 3, we need to spend the night in Manila at the airport. We were able to find information about transferring terminals on TripAdvisor. We are so spoiled here at YVR where we have one main terminal but connecting through other airports like LAX – Los Angeles and EWR – Newark can be a lot trickier and time-consuming.
Track your flights: We are proud to say that we often know if our flight is cancelled before airline staff due to our almost obsessive aircraft tracking using FlightRadar24 and FlightAware! Sure, airlines can swap aircraft but that doesn't happen often so knowing about an issue before everyone else knows about it means you have a better chance of re-routing when there are more options. For example, when we noticed our inbound aircraft was leaving YVR – Vancouver 6 hours late, we called Air Canada to re-book on the afternoon flight and got home 6 hours earlier than had we been stranded at the airport due to that delay (thankfully there was space on the flight!). That being said, we recently almost jumped the gun too soon when a panel broke off our aircraft as it was being towed; the issue was fixed within 45 minutes and the only reason we didn't get off the flight and re-route is because there were no seats on other flights. There are times when you can ahead of the curve and sometimes you can't but we highly recommend tracking your inbound flights by aircraft registration number. See below for how to find your flight's aircraft registration to pull up it's schedule and history.
Know the laws: Are you familiar with "tariffs"? Have you ever heard of the "Montreal Convention" or the "Warsaw Convention"? If not, you should be familiar with these things as they specify airline liability and your rights as a passenger. Even if you have travel insurance, you are entitled to compensation due to these laws. You can either submit a claim yourself or pay a company to help you with it.

Tariffs: A tariff when it applies to an airline ticket "is the contract between an air carrier and its passengers". It also covers "the passengers' rights and obligations, as well as the air carrier's rights and its responsibilities towards the passenger.". The Canadian Transportation Agency has a list of tariffs to airline tariffs that are available online here: https://otc-cta.gc.ca/eng/air-carrier-tariffs-posted-websites. The Air Passenger Rights website and Facebook Group have useful information about your rights for flight delays/cancellations, issues with your baggage, if you are denied boarding and Canada's Air Passenger Bill C-49.
Montreal and Warsaw Conventions: Approximately 120 countries ratified the Montreal Convention which essentially is a treaty that determines an airlines liability to its passengers on international flights. For more information: https://en.wikipedia.org/wiki/Montreal_Convention. Click here for link to the Montreal Convention text.
EU Passenger Rights: Did you know that if you encounter issues with a flight departing from Europe regardless of your citizenship you are entitled to compensation under EU passenger rights? EU passenger rights legislation is light years ahead of anything here in North America, so familiarize yourself with your rights to compensation as airlines don't really want you to know about this!
Summary:
It is very easy to search for a flight online, book it and pay for it but if you're looking for more options, there is a lot of research and work that goes into finding the best product, the most optimal itinerary, the highest return on investment, and just ending up with the best overall deal. Even booking the cheapest ticket involves some research and planning, including reading the fine print and spending more time than you want to waiting in hold to deal with ticketing issues and changes to itineraries, and sometimes even putting in claims for compensation due to travel interruptions and issues with your baggage.
Did you find any of these tips helpful? Do you have any to add? What was the best rewards redemption you ever found? Do you care about which aircraft you fly on? Have you ever been disappointed by a flight product? Do you ever book with third-party websites? Do you track your flights?
Related Posts: