Last updated: February 6, 2020
As we keep visiting Kauai, we will keep updating this list with a focus on small, local and unique businesses. When there is only one location of the place mentioned, if you click on its name, you will be taken to a Google Map where you can pin the location for future reference.
For poke:
Koloa Fish Market: We found Koloa Fish Market, a small market that offers poke and other Hawaiian foods to go located in Koloa town near Poipu Beach when we stayed at Koloa Landing Resort, Kauai (Hawaii). They serve mostly fresh poke that has not been previously frozen; ahi tuna and tako (octopus) are consistently available. We also always get some of their haupia for dessert when they have it. This place is cash only and there at ATMs within walking distance. Since we first starting supporting them a few years ago, they have grown and expanded to a much larger space located on Poipu Road; the new space includes outdoor seating on a nice shaded patio and larger ordering area. We used to love the poke here but had a bad experience on our last visit. More information: https://www.facebook.com/Koloa-Fish-Market-Inc-115579701800890/
Pueo Fish Market and Deli: Located in Eleelee near Port Allen in Kauai, Pueo Fish Market is a new fish market and deli where you can get poke and plate lunch specials daily. We visited in December 2019 for the first time and were very impressed with the quality of the fish, the seasoning, and how it was cut which is we grabbed some to take with us to Salt Pond Park for a picnic. The spicy ahi had some limu in it and it was not overpowering at all! If you want to eat there, they do have a large outdoor patio to the side that has some shade. We will definitely visit again and recommend stopping here if you're in the area. More information: https://www.facebook.com/PueoFishMarket/
The Fish Express: Located just outside of Lihue in Hanamaulu, The Fish Express is a great place to grab some take-out poke or poke bowls when you are on the island. They have a great selection of fresh poke and one of the bets places to get a poke bowl due to all their great toppings which are billed by weight. The service here was really prompt and friendly despite how busy they were. More information: http://restaurantwebexpert.com/TheFishExpress/?TheFishExpress
Konohiki Foods: Konohiki Foods is another small restaurant serving up poke and Hawaiian food just outside of Lihue in Hanamaulu. We tried their poke and ginger fried chicken and enjoyed both but the chicken stood out the most. At the time we visited, there was a limited selection of poke and that could have affected our experience. Service was friendly and we do recommend getting food from here! More information: https://www.loc8nearme.com/hawaii/lihue/konohiki-seafoods/3690495/
For huli-huli chicken:
Keo's Huli Huli Chicken in Anahola: Located about 15 minutes north of Kapaa, Keo's Huli-Huli Chicken is a roadside stand that offers plate lunches. Their huli-huli chicken is by far some of the best we've had and their homemade papaya seed dressing goes so well with the island grown organic greens. Based on their current hours, they are open from Thursday-Sunday between 11:00-15:30 (or until they sell out). The menu is pretty simple; you choose how much chicken you want and it comes in a box with rice, side salad and dressing. We ordered the half chicken plate ($15) as recommended by the staff and it was enough for Jason and I to share. All the greens are either grown in the owner's garden or purchased from the farmer's market. The staff are friendly, caring, and nice to talk to as they have very strongly rooted values and beliefs about preserving nature and Hawaiian culture. More information: https://www.yelp.com/biz/huli-chicken-anahola
For Indian Food:
Cafe Turmeric: Located in Hanalei, Cafe Turmeric is a food truck that serves up some of the most delicious Indian food we've ever had; their Fish Vindaloo is on our list of top meals for sure! At this time, Cafe Turmeric is currently closed for an indefinite period of time while the owners enjoy some time in India. They served customers in November 2019 before closing the food truck and no firm date to re-open has been announced. We are keeping them on this list with the hopes they will re-open sooner than later! More information: https://www.facebook.com/%E0%A5%90-Cafe-Turmeric-%E0%A5%90-1115586018471082/
For happy hour:
Kauai Beer Company: Located in Lihue, Kauai Beer Company has a happy hour with specials on their beers and food from 15:00-17:00 daily. With indoor and outdoor seating, it is nice chill spot with good service, food, and beer. We also appreciate their branding which involves the chickens found on Kauai. Pints of beer are $5 and snacks like deep fried pickles are discounted. They also have food trucks on some days and close the regular kitchen early. More information: http://www.kauaibeer.com/
Kauai Island Brewery and Grill: Located in Port Allen, Kauai Island Brewery and Grills has a happy hour with specials on their beer and food from 15:30-17:30. Beers are about $5 and they have food specials on things like nachos, tacos, and wings . The space is divided between the ground floor and upper level where there is an arcade (doesn't appear to be in service). Since the ground floor has table service and the bar is quite crowded, we were more than happy to enjoy our beers on the upper level by an open window, ledge style table while looking out towards the marina. Last time we were there in December 2019, we were really excited to see they are building an outdoor patio! More information: http://www.kauaiislandbrewing.com/
Lava Lava Beach Club: Located in Kapaa on the beach, Lava Lava Beach Club has a happy hour that runs from 15:00-17:00 for food and from 15:00-18:00 for drinks. Draft beers are $2 off per pint and they have other wine and cocktail specials, including a Mait Tai for $5.00. As for food, they have a special happy hour menu that includes things like pulled pork sliders, beef and fish tacos, fries, and tater tots. The snacks are decent and cheap but we actually enjoyed our full meal there on Christmas Day better; the ribs with slaw were well balanced and the meat was falling off the bone and the fish sandwich was very fresh and a decent quantity. You really cannot beat the seeting; it is so quiet, peaceful and scenic! More information: https://lavalavabeachclub.com/kauai/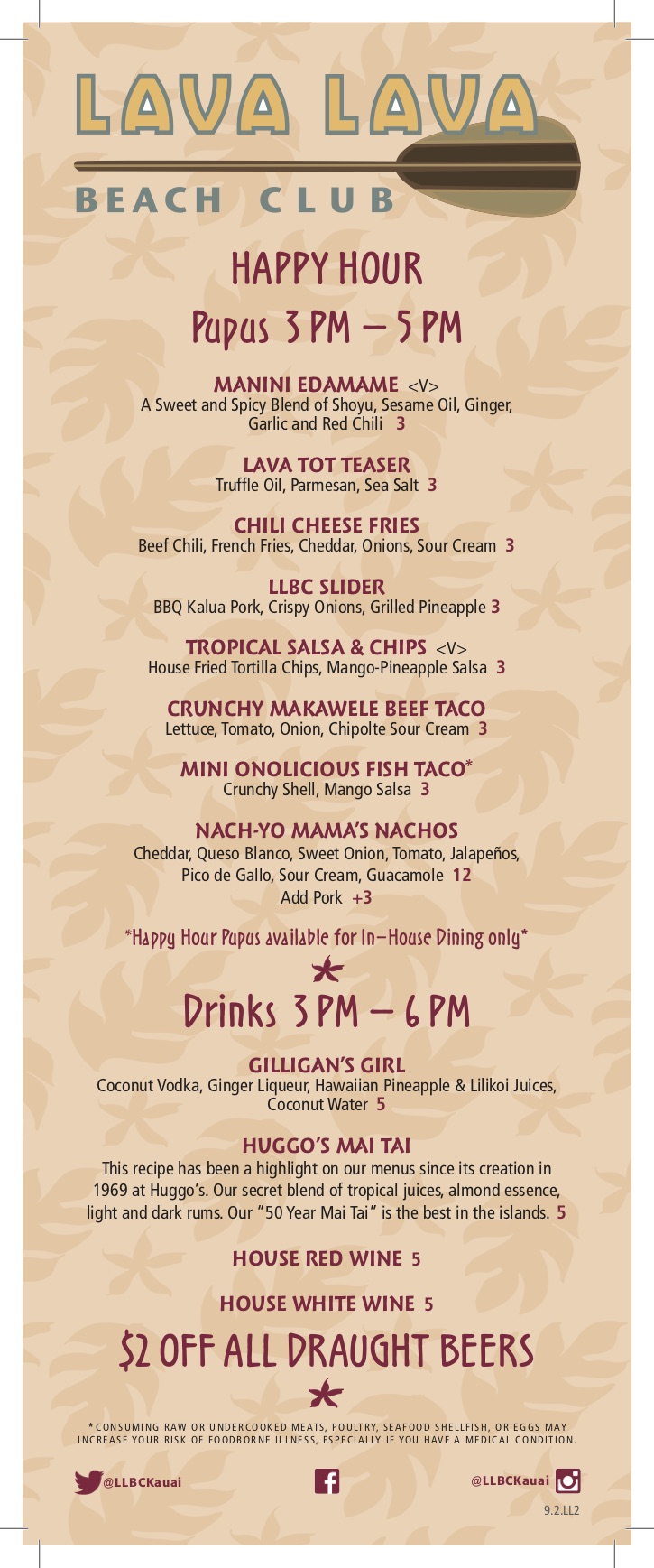 For coffee:
There are quite a few cute cafes on Kauai and a coffee plantation you can visit and we always intend to check them out but we are lacking in this part of the list at the time being.
Aloha Roastery: Located in Koloa town, Aloha Roastery is a quaint cafe that serves up delicious and strong coffee. The interior is a little small but there is outdoor seating and while we try to minimize using disposable cups, we did make the exception to take our coffees to go to walk around Koloa town and learn more about its history. More information https://www.aloharoastery.com/
For shave ice:
Wailua Shave Ice: We visited Wailua Shave Ice in Kapaa in December 2019 and quite enjoyed it; the ice was so finely shredded, it melted in your mouth like snow. Since we get brain freeze, we opted to share one topped with haupia foam, coconut milk, and coconut chips; it satisfied our craving and love for all things coconut. We would visit Wailua Shave Ice again over The Fresh Shave any day. More information: https://www.wailuashaveice.com/
For a special meal:
AMA Restaurant: Located in Hanalei, AMA Restaurant is an Asian fusion restaurant with a stunning setting making it a good place to have a special meal. We came for Max's birthday dinner and were in awe of the scenic Hanalei mountains before and during sunset as we ate carpaccio, baos, and an ahi tuna ramen and sipped Honolulu Beerworks IPA. It wasn't cheap but was definitely not affordable either; the only dish we felt was expensive due to the quantity was the carpaccio at $14. The fried chicken baos were $17 and the ahi tuna ramen was $19. They do not accept reservations and open for dinner at 17:00 ; we arrived at 16:50 and there was already a line-up of about 10 people ahead of us. The best part about arriving early is that if you are in the first seating, which we were, we got to choose where we wanted to sit. An early dinner also suited us just fine as it was also stormy so we didn't want to drive back to Kapaa too late in the dark having seen rock slides on the road on our drive into Hanalei. More information: https://www.amahanalei.com/
For local food:
We do have a section just for poke and decided to include items that are non-poke related here.
Porky's: Was a popular food cart that now has a brick-and-mortar in Waimea. They make sausages, grilled cheese, and rice bowls with Hawaiian-style BBQ pork. We had been meaning to try them out when it was a food cart but the hours were not convenient. While they are known for their indulgent sausage in a bun topped with pulled pork and other fixings, we wanted to keep it lighter and opted for a rice bowl. We both really enjoyed the generous bowl of Hawaiian-style BBQ pork, rice, fresh cut pineapple and grilled onions as lunch. There is indoor seating or you can take your meals to go and enjoy them outside by the beach a few minutes drive away. If you make the drive here, be advised they don't have a restroom! More information: https://www.porkyskauai.com/
Puka Dog: Located in the vicinity of Poipu Beach, Puka Dog is essentially a hot dog stand but not your usual hot dog; it's a Hawaiian-style hot dog! The bun is essentially a tube where they put all the sauces that truly elevate this Polish sausage in a bun. Our favorite combo was spicy garlic lemon secret sauce, mango relish, and Aunty Lilikois Hawaiian mustard. The combination of a sweet Hawaiian bun with perfectly grilled Polish sausage and the tang-spice-sweet tastes of the sauces makes it not only a tasty snack/meal but a cheap one too.  They are best eaten when served hot but it is easy to walk and bring them to Poipu Beach. More information: http://www.pukadog.com/
Saimin Dojo: Located in Kapaa, Saimin Dojo is a casual restaurant serving up Hawaiian fare with their take on it. You can get plate lunches and the Hawaiian version of ramen, saimin. It is a pretty casual place where you order at the counter to eat in or take-out and it is quite affordable too; the plate of chili pepper chicken we shared was $13.95 + tax + tip + takeout container fee and it fed the both of us. They have also added new touches to saimin; they smoke their own meat and add a soft boiled cured egg instead of a hard-boiled egg, and do not add MSG (check out For Kauai Online's review for a great write-up). They also even have a coconut-milk based vegan saimin with vegetables. We highly recommend eating here! More information: https://www.saimindojo.com/
For groceries:
Foodland Waipouli: Like on the Big Island, Foodland is probably our favorite place to load up on snacks, take-out, and drinks. They have a great selection of local products, like craft beer/cider made in Hawaii and a good deli that has items like namasu (pickled cucumber and onions), pipikaula, a kale and purple potato salad, and some fresh poke to name a few. Make sure to sign up for a Makai account to get discounts and points; last time we were able to redeem a coupon to get 5%! More information: https://www.foodland.com/stores/foodland-waipouli
For kombucha:
Kauai Juice Co: With locations in Kapaa, Poipu, and Kilauea, Kauai Juice Co is a juice company that sells its own juices and it's house-fermented kombucha, in addition to other thngs like health tonics, hot sauce, salads in a jar, supplements and merchandise. We essentially just go for the booch though! We purchased one of their glass bottles that we bring into the shop for refills (and use at home for our own brewed kombucha). We love the Dragon fruit-Pineapple with its bright pink color and sweet taste and the Ginger-Turmeric for its bite and tang. If you are planning on trying it, it's the cheapest to have the bottle filled at the store; it's only $4. STores carry-it but it ends up being around $6+. More information: https://www.kauaijuiceco.com/collections/kombucha
Did we miss any of your favorites on Kauai? Feel free to recommend other places for us to try!
Related Posts:
Kauai:
Oahu:
Big Island:
Other: